---
---
July 16th
"Summer Wine Party" Hosted by John & Cathy Potter


1 PM to 4 PM
RSVP Required: 40 people max. (again, occupancy is limited, and we will establish a wait list if we exceed 40 participants.)
There might be a more beautiful backyard in North Nevada – but I don't think so!
John & Cathy's "hidden gem" is an exquisite oasis to relax in; large shade trees serve as an umbrella over the entire space, with numerous places to sit, and chat, and soak up the serenity. A gazebo overhangs the magnificent koi pond stocked with 50+ of the exotic fish and this flows into another bubbling stream that flows past the main sitting area. Seeing is believing! John & Cathy have offered their backyard to NGGW to host a social "Summer Wine Party".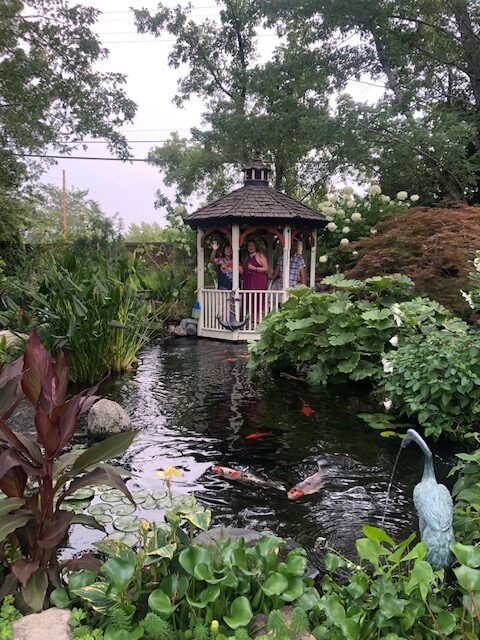 Sound like fun? I certainly hope you find the time to drop by and say: "thank you".
Who brings what?
NGGW will provide "Welcome champagne" and appropriate bites
MEMBERS should bring a plate of appitizers your choosing and one bottle of wine
What time is it?
Who brings what?
NGGW will provide "Welcome champagne" and appropriate bites
MEMBERS should bring a plate of appetizers your choosing and one bottle of wine
Where is it at?
275 Southridge Drive, Reno, NV 89509
---
June 25th

NGGW BBQ (and Vineyard Tour at Buffalo Creek)
Limited to 40 people and RSVP Required
Things are heating up and, in a few weeks, (on Saturday, June 25th) NGGW is hosting its inaugural summer BBQ (along with a vineyard tour) in the park-like setting of the Buffalo Creek Vineyard (just south of Genoa) from 10 AM to 3 PM.
ALL MEMBERS are hereby cordially invited to attend, but YOU MUST RSVP NOW and we will establish a wait list if we exceed 40 participants.
We are limited to 40 people in the area near train station for the BBQ, and this is a one-time opportunity to use this beautiful facility. We've been asked to DO NOT DISTURB the on-site ARTISTS AT WORK and we'll keep this in mind.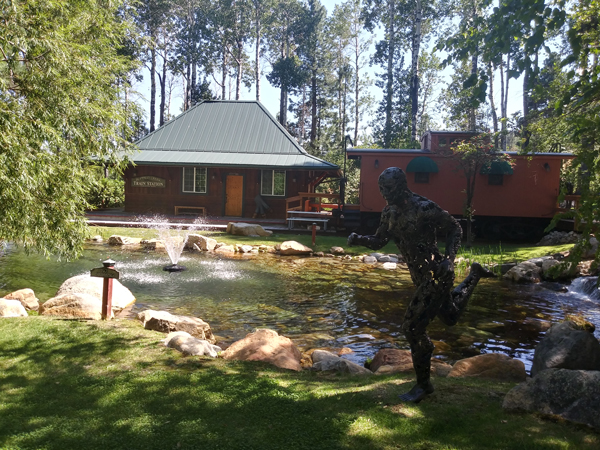 11 AM – NOON: follow the signs to the vineyard and then tour the vineyard and the art in the in a 9-person golf cart.
Buffalo Creek is a beautiful vineyard set against the Sierras just south of Genoa
5 acres of vines including Frontenac, La Crosse, St Croix, and Brianna
12:00 AM – 2:30 PM: BBQ at Train Station
This is our inaugural BBQ so we hope you can attend
Ready to lend a hand? Please let us know. That would be most helpful
NGGW: will provide an assortment of meats (tri tip, chicken, sausages), breads, water, soft drinks, and other BBQ essentials
MEMBERS: please bring a side dish and one bottle of wine of your choice
319 Jones Ln, Gardnerville, NV 89460
Hwy 395 south to Hwy 88
Hwy 88 south to Centerville Lane traffic circle
Right onto Centerville Lane to Foothill Rd. (Hwy 206)
Left on Foothill Rd. and 0.6 miles to Jones Lane
Right on Jones Lane to the gate and then follow the signs to the vineyard
---
Highlight of Upcoming Events 1st Quarter Events
NGGW Qtrly Board Meeting
February 1st, 5:00 – 7:00 pm
Email us for Zoom Info
The NGGW Board holds regular meets once a quarter to manage business and direct the operations of the organization.  If members would like to listen in drop us a line.
UNR Blending Party
February 16th, 5:30 – 7:30 PM
at 4th Street Wineries
reserve a seat
Sign up to join a table with three others to make your own red wine blend using a selection of Nevada Sunset Winery's red wine made from Nevada and California foothills grapes… and your own creativity! Fees will go to the UNR vineyard project. Up to eight tables will participate, and each table's wine will be evaluated, with the winning wine becoming the University's 2022 red wine. Members of Nevada Grape Growers and Winemakers and Nevada Sunset winemakers will be available to help. Participants will each receive a bottle of the winning wine in spring.
Dual-Track Education
February 19th, 9:00 – Noon
Online – ZOOM
Meeting ID: 836 1240 7817
Passcode: 096237
NGGW Introduces: Dual-Track Grape Growing and/or Wine Making Education Series with Quarterly Round-tables
Dual-track Education round-table: the track leaders (and if scheduled, special guest speakers) will cover the topics listed in each quarter. The agenda will be the same each quarter, as below, and the year is divided into four quarters based on what's happening (or what should be happening) in the vineyard and in the winery during the quarter. Conducted in Feb, May, Aug, and Nov. More info on February's session soon.
Feedback Friday
March 4th, 1:00 – 3:00 PM
Nevada Sunset Winery
415 E 4th St, Reno, NV
NGGW is introducing Feedback Fridays, where one Friday a month 5 members will be able to bring a bottle of their own wine and also must bring a bottle of the same commercial varietal they they aspire to be like. Greg Ross will lead this peer evaluation of member's wine, allowing all members in attendance to evaluate and comment on each of the 10 wines.  This will be a great opportunity to receive comments and suggestions.  BUT, you must be willing to put on your learning cap and leave the ego cap at home.  There is no better way to learn!  All full members are welcome to attend the evaluation.
The first Feedback Friday will be March 4th – 1:00 PM to 3:00 PM at 4th Street Wineries and to start things off, the first 5 members that RSVP will kick off the first Feedback event.
juice@nggw.org
Professional Wine Evaluation of New Wines
March 23th, 5:00 – 7:00 PM
Nevada Sunset Winery
415 E 4th St, Reno, NV
On March 23th  from 5 – 7 PM NGGW will offer the first of three yearly professional evaluations of member's wines (in spring – new wine, in summer – bottled wine, in fall – newly fermented wine) at the  4
th
Street Wineries.  Adam Hand (Founder of Great Basin Winery) has graciously offered to host this evaluation and along with guest TBD winemaker will evaluate your new wine to give you early insight into how you may improve them before bottling.  Contact us and let
us know
you'd like to submit 1 or 2 wines.
Download the submission form from the NGGW website
Complete the form for each wine before you arrive at 4th St Wineries (415 E 4th St, Reno, NV)
Bring your new wines in small containers
Evaluations start at 5 PM (snacks provided)
Members are limited to two (2) wines at this time. We are planning on 12 winemakers submitting 2 wines each (24 in total). If there's an opportunity for you to bring 3 (or even 4) wines, we'll let you know prior to the date.
---
Below Happened in 2021
---
WE'VE BOOKED WASHOE PUBLIC HOUSE FOR EXCLUSIVE HOLIDAY PARTY
Wednesday, December 8th
Champagne Welcome

:

NGGW will buy everyone a glass of Champagne for starters.

Holiday Menu: Washoe Public House will prepare a festive Holiday Menu for our exclusive party
BYOW: Bring 1 bottle of wine from your cellar to enjoy without a corkage fee (NGGW will buy the Champagne from WPH's wine list at list price, allowing you to bring a bottle of your wine).
Dress for the Party (Business Casual: Jackets suggested for men and pants or skirt for women)
Washoe Public House  – 275 Hill St, Reno NV
See Details and Pay for your dinner here
---
2nd Annual Harvest Dinner Expanded to Include Guests
This year at Tamarack Junction we have more space (and even though we may be restricted to tables of 2, 4 or 6 depending on the Covid situation in mid-October), we have planned on room for guests. Don't miss out . . . make your reservation today by sending an email to admin@nggw.org and let us know if you plan on having guests at your table. We're planning for 60 people in total. We're working around everyone's busy work-life schedules at this time. We have meet with the Chef and he has paired a menu to our wines. We have the a great menu which we'll send out soon, and it is priced all in at $77 a person and you can pay now.
---
Zoom: Roundtable on Malolactic Fermentation
Wednesday 22nd (5-6 PM) Zoom: Roundtable on Malolactic Fermentation
Malolactic Fermentation (secondary fermentation, MLF or ML for short) is the process in which malic acid in wine is converted to lactic acid. Mostly all red wines and some white wines go through ML after initial fermentation. Contrary to regular or primary fermentation (where yeast converts sugar into alcohol), ML is caused by bacteria.
NGGW members requested this ML session so here 'ya go! An open discussion with lots of time for Q & A
• (10 Mins) ML, the Purpose & Benifits – Discussion led by Dave Perdue, Peavine Cellars
• (10 mins) ML Chemistry – Discussion led by John Klacking, PhD. DoubleBond Wine
• (10 Mins) ML Testing – Discussion led by Adrian Dyette, Dyette Family Vineyards
• (30 Mins) Roundtable Discussion – all participants
https://us06web.zoom.us/j/82272000653
Desktop Passcode NGGW
Phone Passcode 895310
---
August Onsite Meeting at Frost Lane Vineyards

Date: Thursday, August 19th from 4- 6 PM (BBQ from 5 – 6 PM)
Hosts: Mitch & Jaclyn Strominger
Who: Members and up to 2 invited guests (must RSVP)
Location: 3605 Frost Ln. Reno. NV 89511
Directions: S. Virginia St to either Huffaker or Holcomb Ranch Ln, go west to Lakeside Dr. to Frost Ln. West on Frost Ln and 3605 will be on your right. Park on Frost Ln east of the 3605 mailbox and walk up the road
Vineyard Name: Frost Lane Vineyards
Number of Vines: 100+
Varieties: Frontenac, Marquette, Montepulciano, Dolcetto, La Crescent, Syrah, Sauvignon Blanc, Pinot Gris
Cost: Members $0 and Guests of NGGW Members are also FREE
NGGW and the Stromingers will host a BBQ after a tour of the Vineyards and Winery
PLEASE BRING: a side dish or food that accompanies a BBQ and also 1 bottle of wine to share
---
July Onsite Meeting at J Bar M Vineyards

Date: Sunday, July 25th  from 12 – 3 PM (BBQ from 1:30 – 3 PM)
Hosts: Muffy and Jade Miller
Who: Members and up to 2 invited guests (must RSVP)
Location: 4150 Longknife Rd, Reno, NV 89519
Directions: From South McCarron,  west on Caughlin Ranch Pkwy, right on Longknife Rd to 4150 . Park on Longknife after Ramrod Cir.
Vineyard Name: J Bar M Vineyards
Number of Vines: 500+
Varieties:  Cabernet Sauvignon & Franc, Merlot, Syrah, Semillon, Pinot Gris, Sauvignon Blanc and Riesling
Cost: Members $0 and Guests of NGGW Members are also FREE
NGGW and the Millers will host a BBQ after a tour of the Vineyards and Winery
PLEASE BRING: a side dish or food that accompanies a BBQ and also 1 bottle of wine to share
---
---
June Onsite Meeting at Walker River Estate

Date: Saturday, June 12th  from 11 – 1:30 PM (BBQ from 12:30 – 1:30 PM)
Hosts: Susan and Greg Ross
Who: Members and up to 2 invited guests (must RSVP)
Location: Wellington Nevada. 395 South (thru' Minden &
Gardnerville) to Holbrook Junction, when East on 208. We'll send exact Directions when you RSVP or call;
– Greg 775-220-7610
– Stuart 775-720-5829
– Dave 209-629-6083
Vineyard Name: Walker River Estate
Number of Vines: 800+
Varieties:  Gruner Veltliner, Gewurztraminer, Riesling, Ribolla Gialla, Gruner Veltliner, Zweigelt, Cyntiana, Zweiglet, and Frontenac
Cost: Members $0 and Guests of NGGW Members are also FREE
NGGW and the Ross's will host a BBQ
PLEASE BRING: a side dish or food that accompanies a BBQ and also 1 bottle of wine to share
---
May Onsite Meeting at Dyette Family Vineyard
Date: Sunday, May 23rd from 11 – 2 PM (BBQ from 1-2PM)
Hosts: Adrian & Moe Dyette
Who: Members and up to 2 invited guests (must RSVP)
Location/Address: 1095 Sunset Vista Ct, Sparks, NV. 89441
Vineyard Name: Dyette Family Vineyard
Number of Vines: 800+
Varieties: St Peppin, Marquette, Frontenac and many more
Cost: Members $0 and Guests of NGGW Members are also FREE
NGGW and Adrian & Moe will host a Burger Bar

PLEASE BRING

: a side dish or food that accompanies Burgers and also 1 bottle of wine to share
---
Wednesday, April 21st 5-6 PM
Zoom Meeting
Join zoom meeting  Meeting ID: 896 2305 4158
Passcode NGGW
Discussion of Hybrid Vines & Wines with Drew Horton of University of Minnesota
Drew is an Enology Specialist for the University of Minnesota's Grape Breeding & Enology Project and produces nearly 100 micro-lots of research wine and ciders annually, as well he engages with and provides University and Extension resources to winemakers across the Minnesota. This includes trouble-shooting, planning, and evaluating winemaking processes for Minnesota's Farm Wineries. Drew has broad experience and expertise in winery design and equipment, fermentation techniques, barrel-ageing, filtration and blending. Additionally, Drew offers courses and workshops to appeal to the needs of wine makers, from amateur to professional. Horton says, "I'm a hands-on winemaker, always looking for the best practical solutions to solve wine and winery needs and issues
Seasonal Topics Q&A
---
Saturday, March 20th 5-6 PM  Zoom Meeting
The Chemilizer Liquid Fertilizer Injection System, Complimentary Soil Test & More . . . Guest Speaker: Ken Ollenberger, Agronomist for Itronics, Reno, NV
Seasonal Q&A –  ask about seasonal topics
Cost: $0
Questions? Call:
Stuart (775) 720-5826
Dave: (209) 629-6083
admin@nggw.org
Our Guest Speaker
. . . is the fertilizer guru, Ken Ollenberger, Agronomist for Itronics Metallurgical, Inc., the manufacturer of GOLD'nGRO right here in Reno, Nevada.  Ken graduated with a degree in Agronomy from UC-Chico in 1972.  That's correct, 1972. Ken has worked (exclusively) in the fertilizer industry now for 49 years, so (like the Allstate guy) he knows a thing or two, having worked in all phases of the industry; fertilizer application, equipment setup, retail sales and fertilizer manufacture representative.
Why You Should Attend This Zoom Meeting . . .
Chelated micronutrient fertilizers are used as supplements to crucial minerals like nitrogen and phosphate, zinc and potassium. By utilizing chelated micronutrients, you are ensuring your vines receive the exact nutrient elements they need; no more, no less
.
NGGW Member's Complimentary Soil Test
First, Ken and his team conduct a complimentary soil test (see sample below). Based on the findings, each vineyard will then have its very own specialty fertilizer formula – developed through years of field studies – designed to generate more nutrient crops and an increased yield. Learn more: http://www.goldngro.com/
Chemilizer™ HN55 Injector – 1:128
The HN55 utilizes a unique diaphragm driven water motor and a hardened, positive displacement chemical pump ensuring a high level of accuracy. Ratio is one (1) gallon of Liquinox Liquid Fertilizer to 250 gallons of water applied. That's 1 part fertilizer to 250 parts water!
---