---
June Onsite Meeting at Walker River Estate

Date: Saturday, June 12th  from 11 – 1:30 PM (BBQ from 12:30 – 1:30 PM)
Hosts: Susan and Greg Ross
Who: Members and up to 2 invited guests (must RSVP)
Location: Wellington Nevada. 395 South (thru' Minden &
Gardnerville) to Holbrook Junction, when East on 208. We'll send exact Directions when you RSVP or call;
– Greg 775-220-7610
– Stuart 775-720-5829
– Dave 209-629-6083
Vineyard Name: Walker River Estate
Number of Vines: 800+
Varieties:  Gruner Veltliner, Gewurztraminer, Riesling, Ribolla Gialla, Gruner Veltliner, Zweigelt, Cyntiana, Zweiglet, and Frontenac
Cost: Members $0 and Guests of NGGW Members are also FREE
NGGW and the Ross's will host a BBQ
PLEASE BRING: a side dish or food that accompanies a BBQ and also 1 bottle of wine to share
---
May Onsite Meeting at Dyette Family Vineyard
Date: Sunday, May 23rd from 11 – 2 PM (BBQ from 1-2PM)
Hosts: Adrian & Moe Dyette
Who: Members and up to 2 invited guests (must RSVP)
Location/Address: 1095 Sunset Vista Ct, Sparks, NV. 89441
Vineyard Name: Dyette Family Vineyard
Number of Vines: 800+
Varieties: St Peppin, Marquette, Frontenac and many more
Cost: Members $0 and Guests of NGGW Members are also FREE
NGGW and Adrian & Moe will host a Burger Bar

PLEASE BRING

: a side dish or food that accompanies Burgers and also 1 bottle of wine to share
---
May Nevada Juice
---
Wednesday, April 21st 5-6 PM
Zoom Meeting
Join zoom meeting  Meeting ID: 896 2305 4158
Passcode NGGW
Discussion of Hybrid Vines & Wines with Drew Horton of University of Minnesota
Drew is an Enology Specialist for the University of Minnesota's Grape Breeding & Enology Project and produces nearly 100 micro-lots of
research wine and ciders annually, as well he engages with and provides University and Extension resources to winemakers across the Minnesota. This includes trouble-shooting, planning, and evaluating winemaking processes for Minnesota's Farm Wineries. Drew has broad experience and expertise in winery design and equipment, fermentation techniques, barrel-ageing, filtration and blending. Additionally, Drew offers courses and workshops to appeal to the needs of wine makers, from amateur to professional. Horton says, "I'm a hands-on winemaker, always looking for the best practical solutions to solve wine and winery needs and issues"
Seasonal Topics Q&A
---
Saturday, March 20th 5-6 PM  Zoom Meeting
The Chemilizer Liquid Fertilizer Injection System, Complimentary Soil Test & More . . . Guest Speaker: Ken Ollenberger, Agronomist for Itronics, Reno, NV
Seasonal Q&A –  ask about seasonal topics
Cost: $0
Questions? Call:
Stuart (775) 720-5826
Dave: (209) 629-6083
admin@nggw.org
Our Guest Speaker
. . . is the fertilizer guru, Ken Ollenberger, Agronomist for Itronics Metallurgical, Inc., the manufacturer of GOLD'nGRO right here in Reno, Nevada.  Ken graduated with a degree in Agronomy from UC-Chico in 1972.  That's correct, 1972. Ken has worked (exclusively) in the fertilizer industry now for 49 years, so (like the Allstate guy) he knows a thing or two, having worked in all phases of the industry; fertilizer application, equipment setup, retail sales and fertilizer manufacture representative.
Why You Should Attend This Zoom Meeting . . .
Chelated micronutrient fertilizers are used as supplements to crucial minerals like nitrogen and phosphate, zinc and potassium. By utilizing chelated micronutrients, you are ensuring your vines receive the exact nutrient elements they need; no more, no less
.
NGGW Member's Complimentary Soil Test
First, Ken and his team conduct a complimentary soil test (see sample below). Based on the findings, each vineyard will then have its very own specialty fertilizer formula – developed through years of field studies – designed to generate more nutrient crops and an increased yield. Learn more: http://www.goldngro.com/
Chemilizer™ HN55 Injector – 1:128
The HN55 utilizes a unique diaphragm driven water motor and a hardened, positive displacement chemical pump ensuring a high level of accuracy. Ratio is one (1) gallon of Liquinox Liquid Fertilizer to 250 gallons of water applied. That's 1 part fertilizer to 250 parts water!
---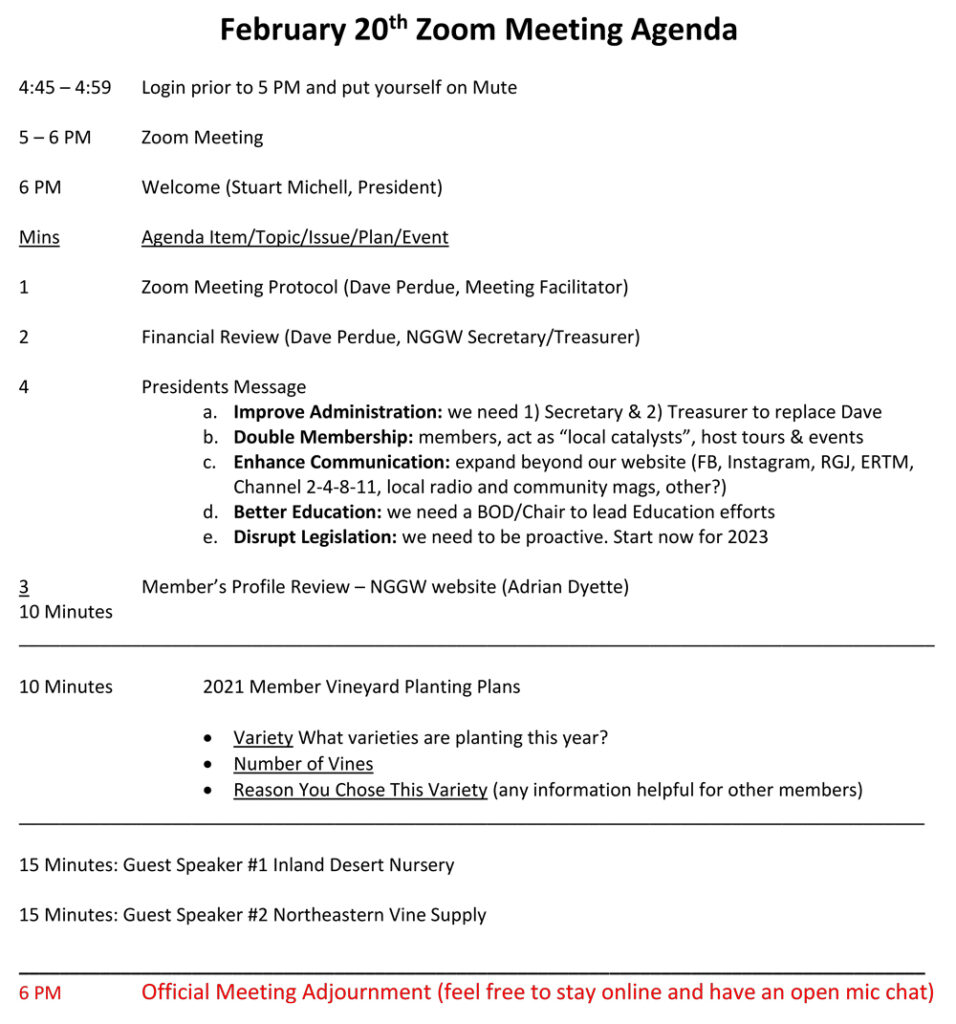 ---
January 6th Zoom Meeting