---
S.B. 259 reprint with amends. adopted on April 19, 2023 – 1st reprint S.B. 259
S.B. 259, a proposed act provides changes to locations(s) of sale, case limits if wine is made of non-Nevada fruit, and labeling and certification requirements.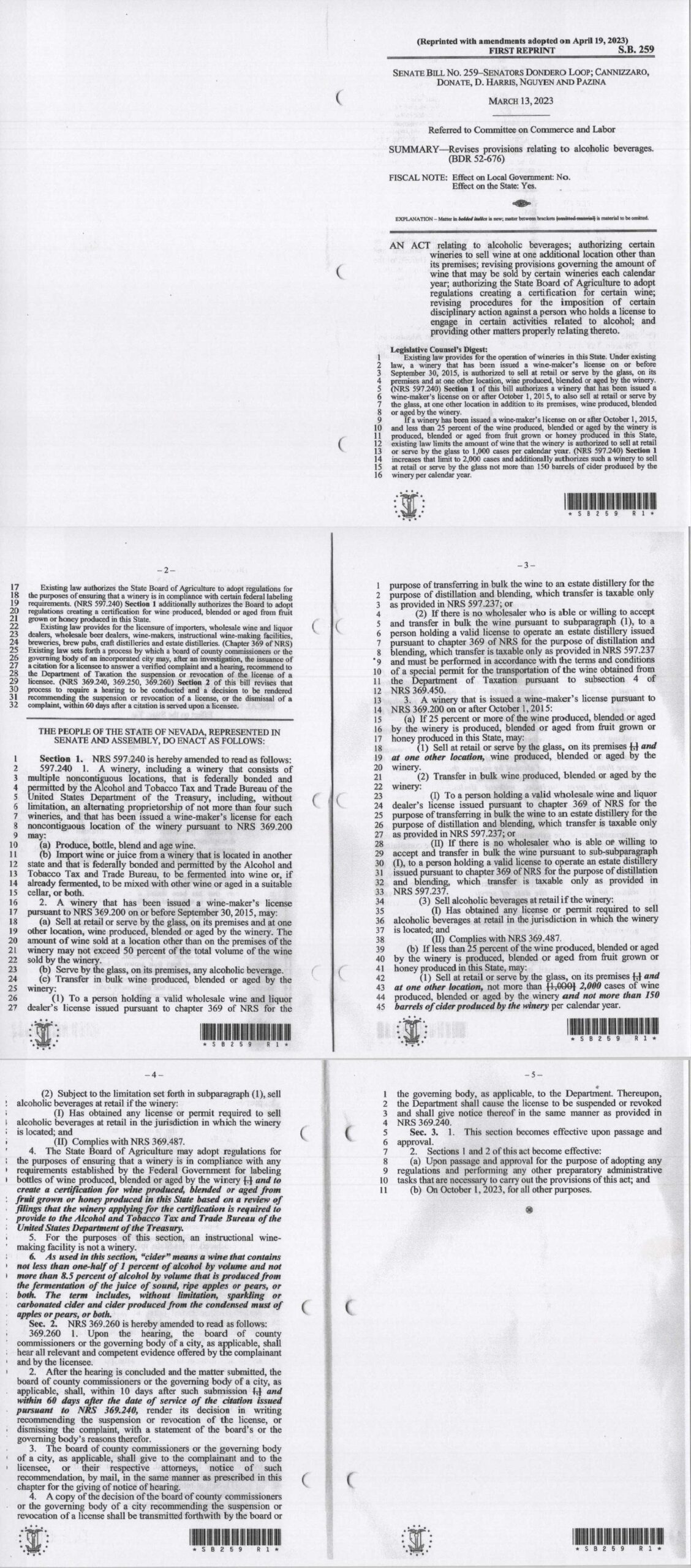 ---
Notice No. 204: Promoting Competition in the Beer, Wine, and Spirits Markets
TTB-2021-0007  Comment here on the Request for Information to solicit input regarding the current market structure and conditions of competition in the American markets for beer, wine, and spirits.  The RFI says initial deadline for complete inclusion of comments is Aug 18, 2021, but the web page says comments are due Oct 1, 2021, therefore comment ASAP.
---
Legislative Issues and Updates
NRS 597.240 (Current Nevada Law (Effective through September 30, 2025)) (SB307 yet to be incorporated)
Legislative Notice of Liquor Excise Tax Changes, dated October 8, 2021 – Nevada Revised Statutes (NRS) 369 and 597, implementing multiple non–contiguous locations.
---
Summer Issue 2021 – Edible Reno-Tahoe story on Regulatory System and Legislation in Nevada, "Sour Grapes" by Nora Heston Tarte
---
July 2, 2021 – Nevada Senate Bill 307EN Enrolled and signed by the Governor . SB307_EN
---
May 22, 2021 – Nevada Senate Bill 307R3 (Amendment No. 751) contains changes effecting Nevada Wineries. SB 307R3
---
Apr 12, 2021 – Nevada Assembly Bill 375 was not voted out of committee by the April 9th deadline, so it is dead unless it gets an exception.
---
Mar 29, 2021 – Nevada Assembly Bill 375 Commerce and Labor Committee Hearing  Video of March 29, 2021 Hearing
---
---
Feb 9, 2021 – 2021 Legislative Session Bill Watch – 02/09/2021 –
---
---
---
NV Assembly Committees
---
NV Senate Committees